Hiking trip in Jämtlandsfjällen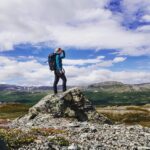 When: 7-10 August 2020
How: 3 days, 2 nights, amazing nature, local food, beautiful views and experience of outdoor togetherness. We share our passion for outdoors and being in the mountains.
Level: For beginners as well as experienced hikers. The focus is mountain indulgence while we hike between 15-20 km per day.
Motto of this hike: Get inspired & re-charged by Swedish Nature.