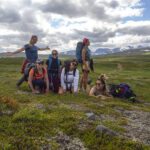 HIKEFULNESS 
När: 19 -22 Augusti eller 9 -12 September
Hur: Låt fjällvandring bli din bästa sommarupplevelse!
Letar du efter en magisk sommarupplevelse som aktiverar dig, ger ny energi, kunskap och inspiration, samt kombinerar komfort av boende på en mysigt Eco Lodge med ett mini uteäventyr där vi spenderar en natt i tält på fjället omgivna med fantastiska vyer?
Private Guiding & Day Tours
It is always possible to make an inquiry or booking for 1 day tours, short-term fish guiding (during main season) or other requests. Especially tailored to your specific needs. All you have to do is ask. See our contact section below or on the menu bar.
"The trip was simply amazing! Simona is a super professional and fun guide, so you are 100% safe and be sure that the trip will be unforgettable! I can highly recommend her trip to everyone." 😊
"First time I am doing a hiking trip in the north of Sweden (Jämtland) and the experience couldn't have been better. The weather was amazing for most of the 3 days and 2 nights that our trip lasted and the sceneries were mind blowing. Simona is a very experienced and reliable person. I can 100% recommend her and I hope to do more trips with her in the near future!!"
"It was a real adventure! Swedish nature is breathtaking, and Simona had many stories to tell about mountains, animals and plants in the area. It's great to travel with the guide who knows so much. Our hike was organized in a very detailed way and our timing was perfect. I felt very safe and could totally rely on Simona. And we had so much fun - sharing stories, getting to know each other as well as ourselves, and doing some spontaneous things like swimming in the stream! Would totally do it again! 🙂 "
"Fun, easy and adventurous hiking with visual memories that will last me a lifetime. Simply stunning and I wouldn't hesitate doing it again!"