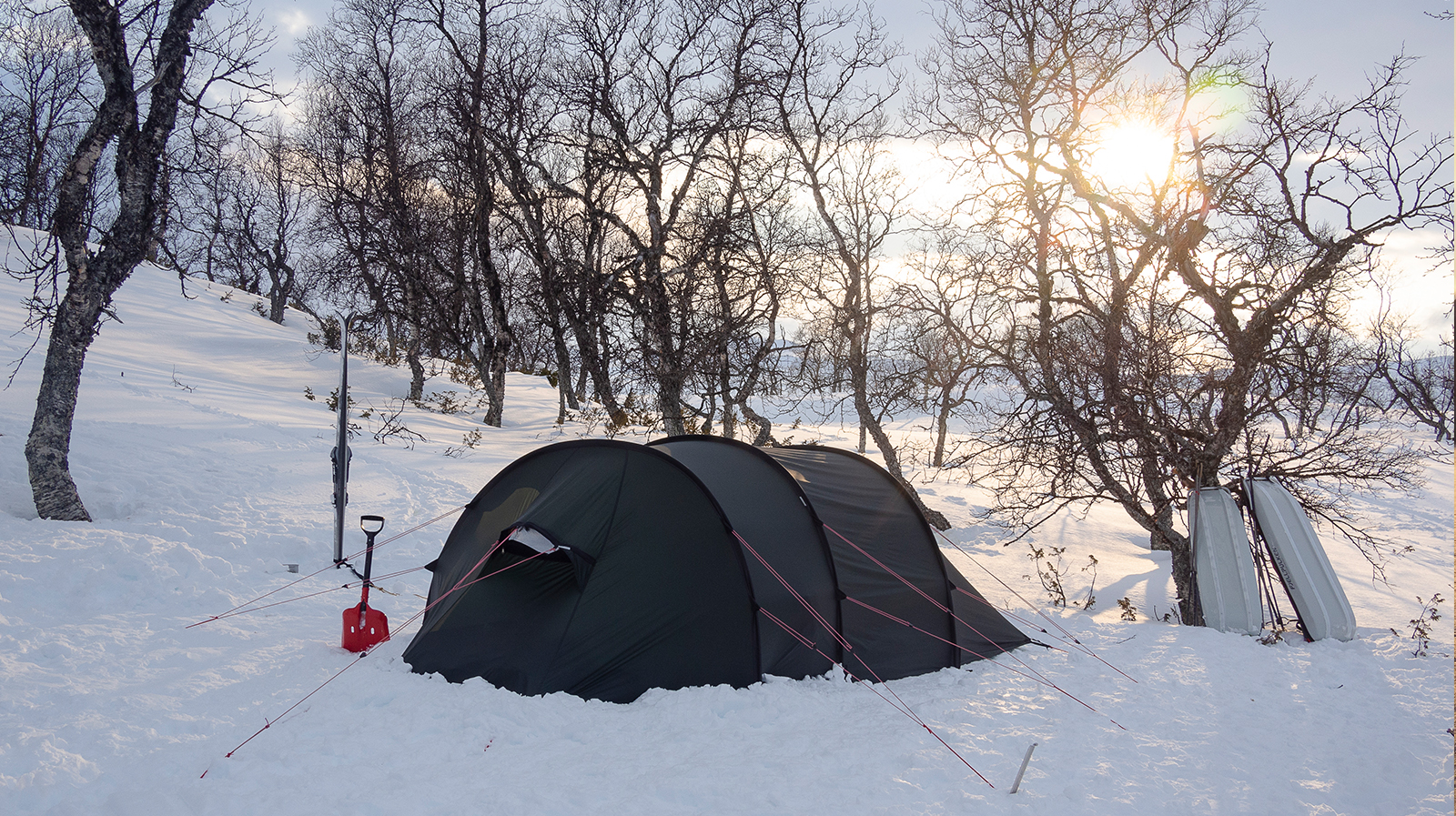 When someone says "winter camping", what comes first to your mind? Is it darkness and cold? frozen feet and the shivering of every cell in your body? Or is it "wow, that must be such a cool experience?
Winter camping is something which attracts many of us but also can discourage many from even giving it a chance – Will I freeze? How can I keep warm? What to do when fingers & toes become like icicles? Can I ever fall asleep outside in -10 C and feel comfortable in the sleeping bag? Will my clothes be wet? How about frozen shoes in the morning? Can I pitch a tent in winter and what to do with all the snow around and inside the tent?
Sleeping in tent in winter is different and more challenging than in summer. There are no doubts to this. It does require different routines, the right equipment and preparations but it also has a great charm. You can make it cozy and comfortable and learn to enjoy it. Believe us!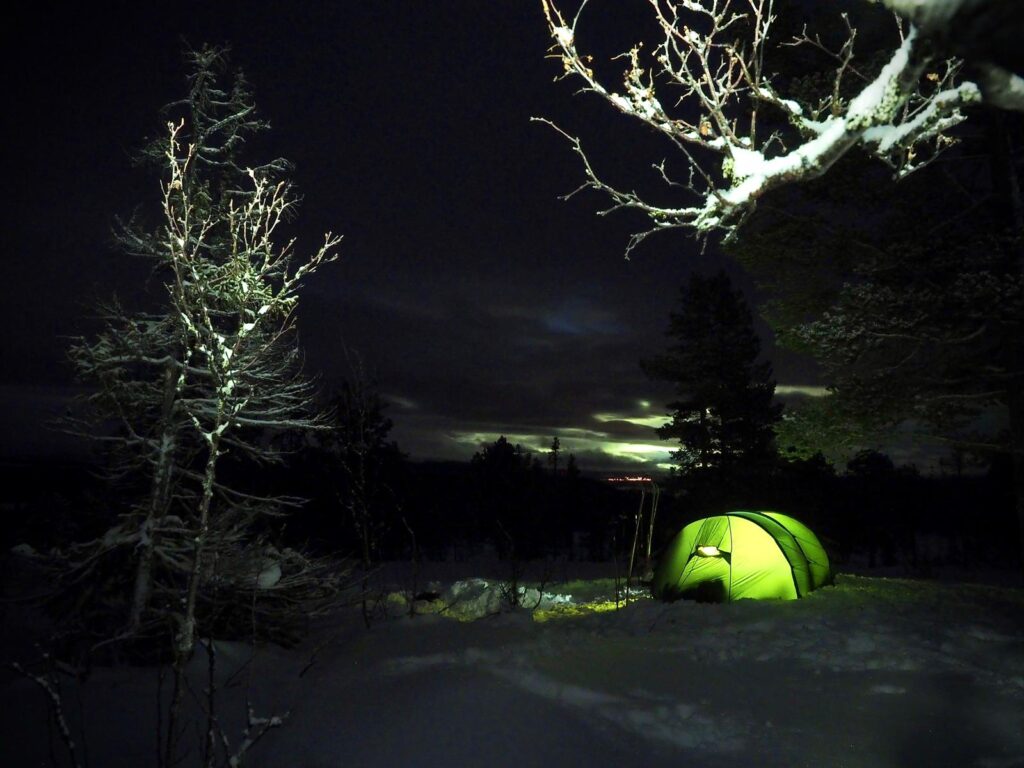 Our first "night out" in our Project "The Year of Outdoor Escapes" was exactly on the first day of the 2021. On 1st of January we woke up and after breakfast, we packed our sled, "pulka", and 80L backpack, slid into our winter shoes, clipped in to our BC skis and headed out to explore an area in a Scandinavian forest not far from our mountain hut. We were looking at this place for a while but since there is no road and the accessibility is not good in summer due to thick forest and swamp areas, we had not been there yet.
The planning for this short two-day expedition didn´t take us longer than one evening. And we had a looong New Year´s evening for us. While waiting for the midnight to close the 2020 and open 2021, we made our plan for the trip. Sitting in our mountain cabin, sipping a glass of wine, eating apple pie and enjoying the warmth of the open fire, the evening was devoted to setting up the plan for our "night out".
An extra exciting end of 2020 and begin of 2021!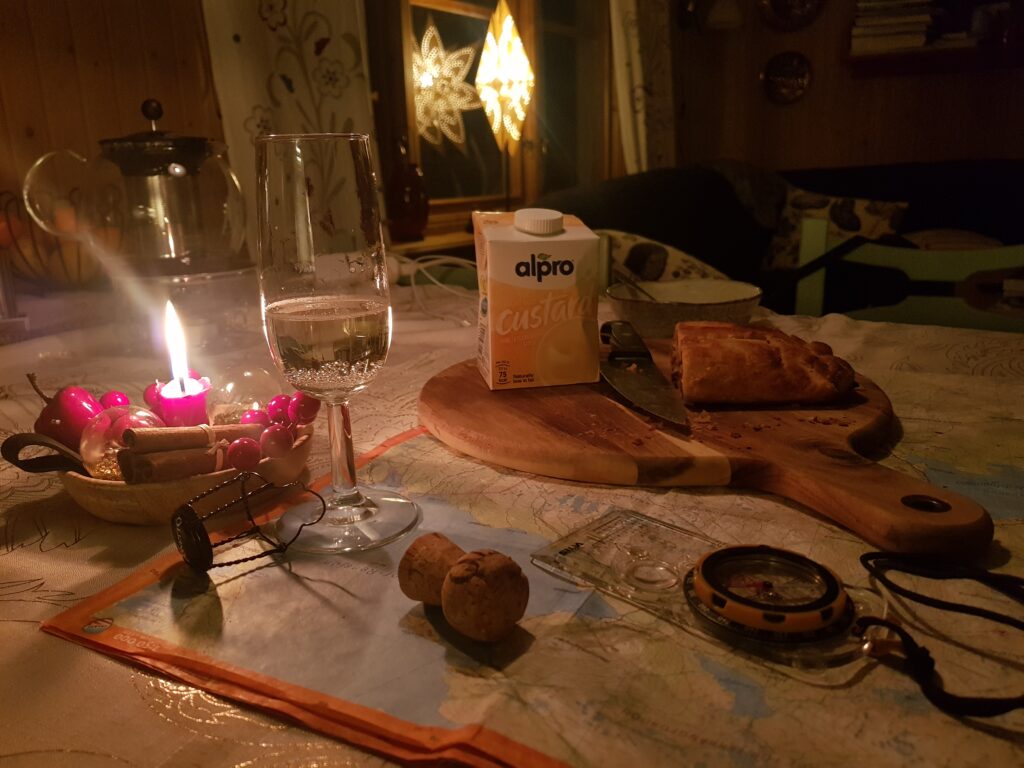 The goal of our small expedition was about 12km remote – a small mountain plateau with less density forest above the lake where our cabin is situated. We knew we must pitch our tent latest 13.30 as the darkness is taking over here during this time of the year already at 15.00.
The first 4km were quite fast as we were sliding smoothly on the frozen lake. The ice was already thick (we knew it from the days before when we were ice fishing). Nevertheless, just to be safe, we were keeping ourselves close to the shore, not crossing the lake in the middle. On a 4km long lake, you never know 😊
Then the journey continued through the forest. At first we could follow an old track from a snow mobile but shortly it disappeared, and we had to move through deep snow and thick forest. With about 20kg each it was quite tough to track uphill in the deep snow but the surrounding forest richly covered by fluffy snow was making us feeling like in a Narnia.
Finally, with sweaty foreheads and low on energy, we reached the plateau where the forest opened and changed character. Old birches in a nice open meadow, overlooking the lake under us bare witness to our small expedition. We decided to make camp. The time was just about right to find a nice spot for our mobile tent home for the night.
To pitch a tent in winter and make all the equipment in order takes some time. We were also hungry as we didn't eat much since the breakfast but the tent pitching was our priority.
First home, then food.
Setting up the tent and putting order in all things makes you quite warm so didn´t feel the temperature dropping. Once we were ready with organizing all of our stuff and starting cooking, it was time to wrap ourselves into our extra warm clothes – thick down jackets, thick lined shorts which you put on your winter trousers, thick gloves and bivy shoes with down inner socks. With all the warm "wrap-up", the world gets a new perspective just in the strike of a minute!
To add to the cozy feeling, we brought some wood and a small portable wooden stove which only weigh 200g. The darkness came rather quickly but with the extra fire close to our tent, which also served as an extra warm source to melt the snow for water and warm our hands, we really enjoyed being outside, eating our dinner while observing the night taking over the open space. Catching weak glimpses of lights from the remote village far off in the horizon.
You may ask what to do when the evenings in winter are so long? Well, after the equipment organizing, cleaning & adjustments around your tent, cook your dinner, melt all the snow and put the warm water in the thermos and water bottles to prepare for the morning, the hours just fly!
Then, at about 6 or 7pm, you just slide into your sleeping bag and are happy for the warmth returning to your body. I always put my water bottle with hot water into my sleeping bag, on my belly or legs, for extra warm (always keep your warm bottle covered with a cloth or something, never straight on your skin). You would give a Nobel Price for this feeling!
While in the tent, you have a chat, tell stories and have good time together. There is no disturbance around. No TV, no internet, just the company of each other. I for one really like that.
Going to "bed" at 8pm, falling asleep rather early, you would not expect you can sleep till 9am. Not in a tent, in winter. But we did. Maybe the fact that the sun is setting around 10am helped but it was also nothing bad in having a long sleep outside. This was also a sign that we slept well and didn´t freeze.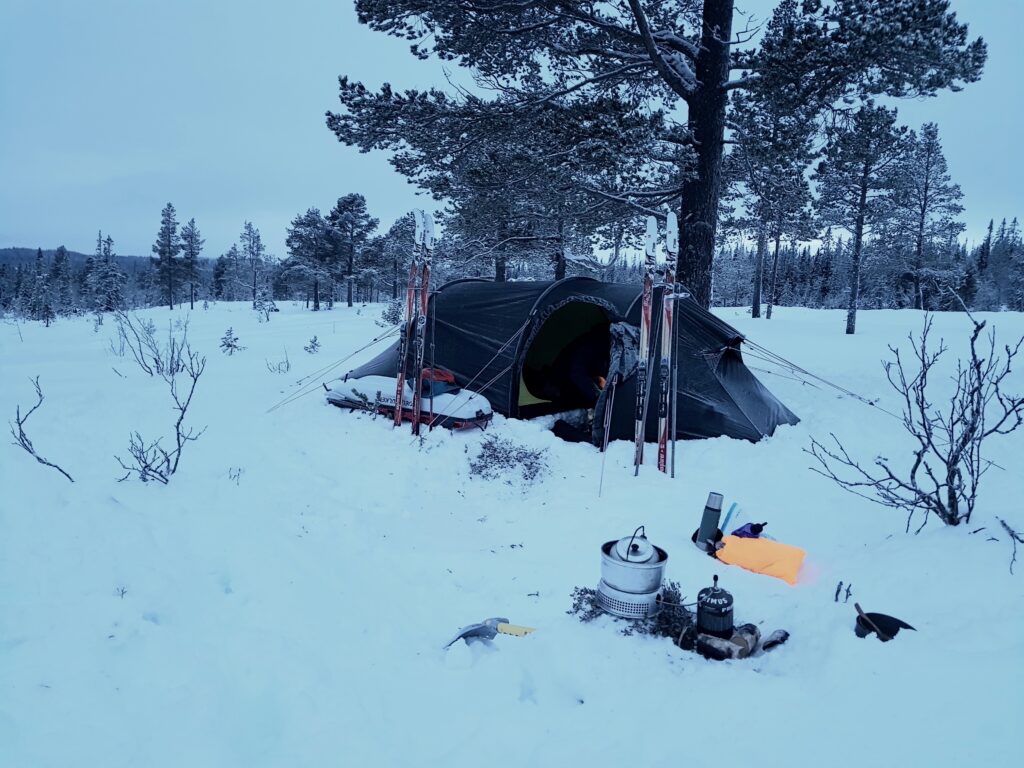 We knew that we will just go home the other day so it was not a big rush. With the first scent of cinnamon coming from the warm porridge we realized how hungry we were. It was breakfast time! Well, being outside in minus temperatures really does accelerates your metabolism. Especially after the night our stomachs were screaming for some good loads of carbs. Porridge with dry fruits and nuts is the best load before another heavy day out in the nature.
On the way home, we choose a different way to explore the forest from another perspective. We followed the natural opening in the landscape. Only one passage was bit difficult where we needed to lower down the sledge, "pulka", on ropes as it was not possible to ski down such a steep area with heavy equipment. A good exercise and great team work. We had quite fun! After that, we came back to the lake where the nice 4km "glide" was waiting for us before we were back in our mountain hut.
Our small mountain escape didn't last longer than 30 hours but we had such a great time together. We covered about 25km and 450 elevation meters in mainly forest and untracked snow.
When we came back, made order with all the equipment and ate some food, the tiredness struck. But it was a "happy" kind of tiredness. Full on endorphins, we chat about the past 2 days with sparkles in our eyes. We discover an old beautiful forest just 12km away from our cabin and got a new perspective of the area which had been a question mark for us just 2 days ago. Another piece of the puzzle in our map was put into a place and we got excited to plan our next one-night outdoor adventure!
The year 2021 and our Year of Outdoor Escapes project (one night out every month) could not have started in a better way!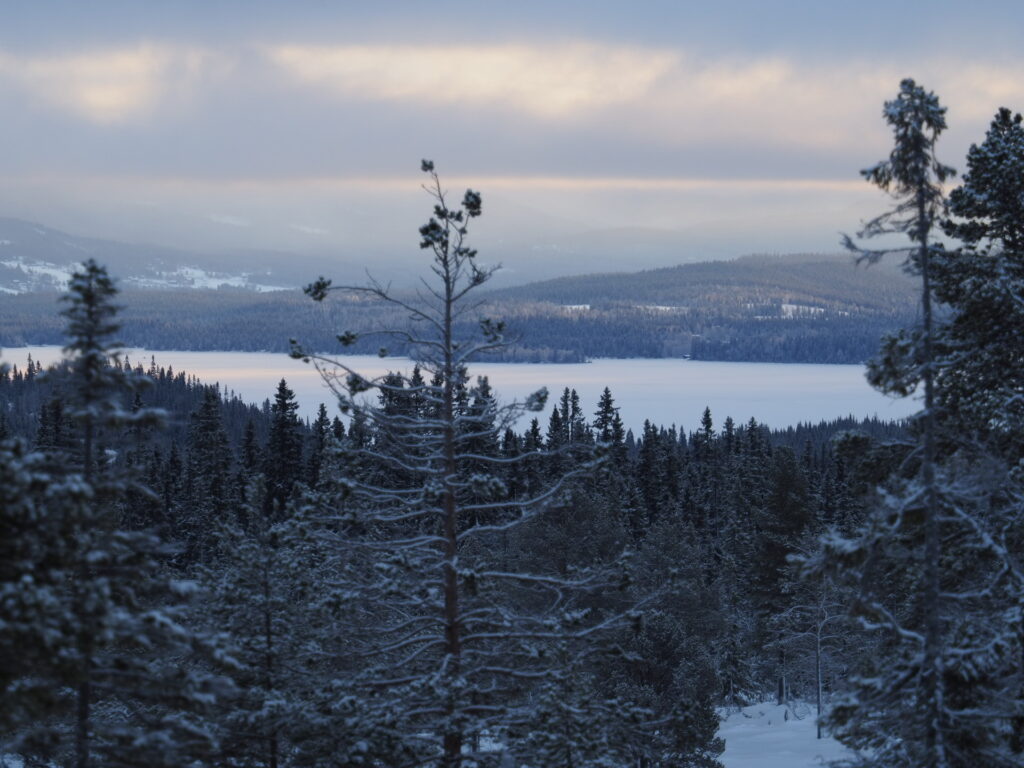 If you would like to try winter camping but are not absolutely sure how you should prepare for it or what equipment is needed, we arrange a 2 to 4 days small "winter escapes" where you can get a first taste of Scandinavian winter hiking and even try to sleep in a tent. Check our calendar for availability or contact us directly for a private tour!
We would love to take you out with us next time!
Categories: