The Right Way to Hike - Intro Course to Swedish Mountains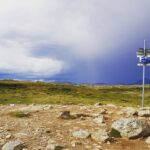 When: 19th – 22nd of August
Mountain hiker already or just about to begin with your outdoor adventures in the Swedish mountains? 
Do you feel tempted by hiking outside the marked trails or sleep in a tent instead of mountain huts but not absolutely sure how to do it? how to navigate? what to think of when planning your tour, pitching a tent or what to avoid?
Swedish mountains are breathtaking with their big open spaces, specific shapes, character of nature and feeling of wilderness. They might be however also rough and difficult when not well prepared.
We have therefore built a 4-days course to teach you the elementary basics for hiking in the Swedish mountains so you can become a more independent hiker.
The aim of the course is to give you a good basic knowledge for planning and making your summer mountain adventures in a right and safe way. The days will be packed with many essential tips.
The course can be held both in English and Swedish.
We meet at Enafors at lunch time. We eat lunch together and get to know each other. After lunch we go through our equipment, prepare a plan for the tour and make us ready for our first day of hiking.
We hike in easy tempo to the place where we pitch our tents and set for the night. During the day we speak about Swedish mountains specifics, their character and what to think of when in this environment, what are rules, risks and difficulties.
In the evening we cook dinner on our storm kitchens and continue our discussions about Swedish mountains, outdoor life, how to well prepare for hiking, how to set a good plan before the trip considering the time of the year, weather, character of the tour, place and similar…
We continue our hike and as we progress during the days, we learn how to navigate, read map, use compass and different tools. We train to navigate us outside the marked routes and make different exercises so you can get more acquainted with using map and compass.
Each day will have different focus and we touch upon topics like food, right energy level, good physical presentation, right clothes and equipment, first aid and safety in the mountains, how to take care about the most common injuries and similar.
we take us slowly down from the mountains back to Enafors where we finish our course at approximate 3-4PM.
Price: 4.300 SEK/pp
Participants: Max 6 ppl
4 days of hiking

 Experienced guide (fjälledare)

Theoretical and practical exercises during the 4 days.

Lectures related to outdoor life and mountain hiking during the 4 days

Packing list & Welcome letter

Course of Completion Certificate
Travel to and from the place where we meet

Necessary camping equipment: tent, sleeping bag, mattress, storm kitchen

Personal equipment for hiking (backpack, clothes, shoes, toiletries, etc.) – full packing list will be provided after submission of application.

Food for the days (recommended amount will be provided with packing list)

Lunch the first day and snacks needed during the days
Let us know if you need to rent any equipment. We can help you to arrange it.